Tom Neale and Suwarrow Atoll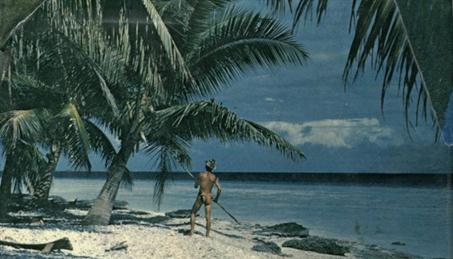 Thomas Francis Neale was born on November 6, 1902 in Wellington, New Zealand. At the age of 18 years, Tom Neale joined the Royal New Zealand Navy. Tom traveled to the islands of the Pacific Ocean, studied the life of local people, looking for new friends and choosing the right island for him. He spent 6 years of wandering from island to island, working on inter-island trading vessels.
In 1928 Tom Neale lived in Tahiti until 1943 supported the life of odd jobs, enjoying their lives.
Then he was offered a job a storekeeper in the Cook Islands, working in small shops on the islands. In Rarotonga, Tom met with the writer Robert Dean Frisbie, who fascinated him with stories about Suwarrow Atoll, on which he had the good fortune to be in the 40s. Tom also been on the Suwarrow in the 45th year. Carefully thinking over all, Tom decided that Suwarrow - that is place, in which he would have wanted to live.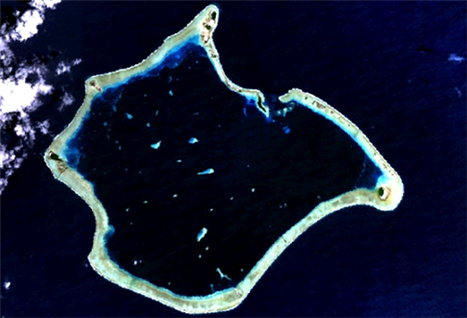 Suwarrow Atoll, view from space
Tom Neale was preparing for a long time and finally, 7 October 1952, on the ship "Mahurandzhi" Tom came to his cherished and coveted coral atoll. He took with him a variety of food supplies, tobacco, various tools and volcanic rocks to build the furnace, these stones are not just found on a coral island. And two cats to get rid of rats.
When on the island lived millitary people, they left a good hut, a lot of empty barrels, pigs and chickens, which eventually became wild and different things that are really needed Him.
Over time, Tom has adapted to life in the wild and became a real Robinson Crusoe. He began to grow vegetables, cut off all the pigs, which hindered him, built a paddock for a chiken, repaired the boat, which left the military people. Tom fed on fish, crabs and clams, chicken eggs, coconuts, breadfruit, bananas, wild-grown vegetables and occasionally chopped cocks.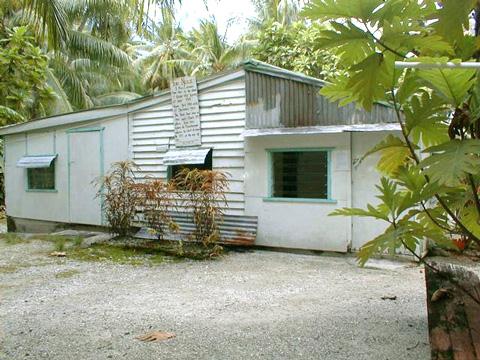 Tom Neale's hut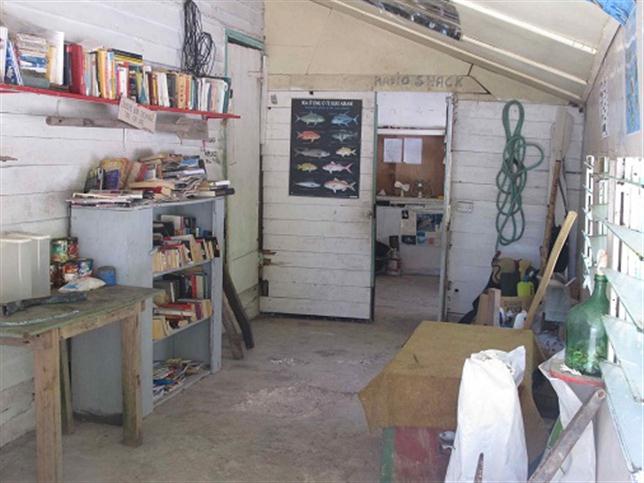 Inside Tom's hut today
Tom Neale lived on the island alone, but from time to time it sailed to casual visitors. At a meeting with him the people were usually very surprised to see this Robinson Crusoe in this wilderness. Tom was always a tremendous interest in and possessed of himself. Tom was a very hospitable person and was very happy to visitors.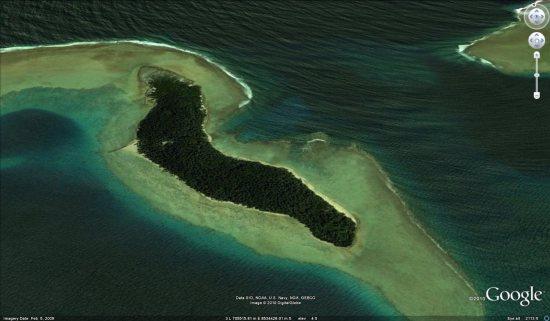 Anchorage Island, where he lived Tom. In the center of the island is visible to his hut.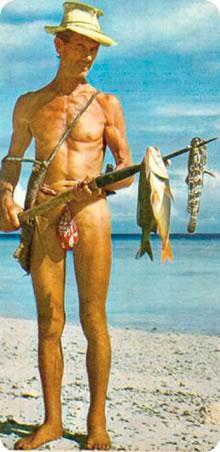 With his catch in a pareo and straw hat
Tom Neal experienced on the island of different events, both good and bad. He survived a major hurricane that struck the island. Several times, cut his foot on the coral, very sick a fever. Very overtrained during construction a pier, which was previously on the island. It took him six months to build it, but Tom did not have time to celebrate the completion of work as a hurricane destroyed it.
One day, Tom swam to a small island of the atoll and an unexpected sharp pain turned him. He could not even move. But with great difficulty and pain of hell, he climbed into the boat, very roasted on the sun, and then sailed to the island and its crawled to his hut. Tom spent half paralyzed for four days, but somehow miraculously sailed to the atoll two men and helped Tom. They lived with him for a while, looked an island, rubbed ointment his spin and exchanged experiences.
When these people drifted back, promised to send a ship for him that Tom was able to return home in Rarotonga, and to cure the spin. Otherwise, the outcome could be very bad for him. Once one of these guys said to Tom:
"It's one thing when you die in a storm or a hurricane - it's a kind of abrupt end. But quite another - to lie on his back, unable to move, alone, slowly dying of starvation, alive but paralyzed, knowing that food is just a few steps. "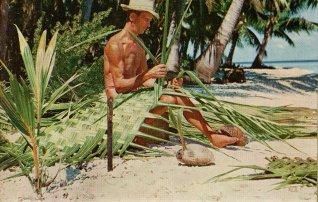 weaving the roof of the coconut palm leaves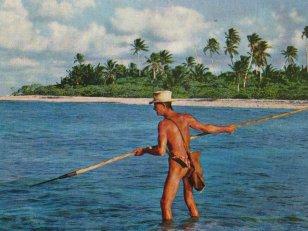 Fishing with a homemade spear with forged tip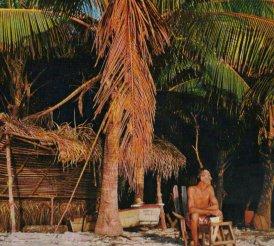 A small hut near the shore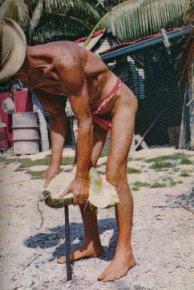 Open a coconut
After arriving in Rarotonga, it will still be a long six years before Tom comes back to his island. April 23, 1960 Tom has finally returned to the Suwarrow Atoll. Tom lived there until January 1964. He lived a happy, measured life, one in the wild, relying only on themselves. One day on the island flew a military helicopter, and then suffered a shipwreck near the island's family with a young daughter. Tom helped them, got things from the sunken boat. For all of the time spent with them - they never quarreled and were very polite to each other. Then passing ship took the family. They gave a signal mirror and saw him on the ship.
Some time later, Tom realized that was not getting any younger and need to decide something, and to him frequent sailed pearl divers, carefree natives who are quite annoyed by it. December 27, 1963 Tom Neale left a Suwarrow.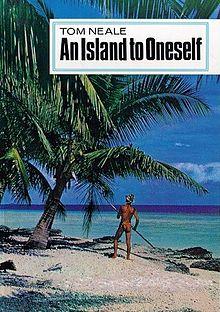 Tom wrote the autobiographical book "An Island To Oneself", which soon became a bestseller.
The third time, Tom Neal returned to the island in June 1967, but about that, he did not mention in his book. Yet it was not, on the island have visited some kind of people. In 1965-66 Michael Swift lived in solitude on the island, but unfortunately he was not familiar with the methods of survival and it was very difficult to feed oneself. And been there a student Chogyam Trungpa, who will left a message for Tom, and many others.
Neale lived in his beloved island until 1977, and died of stomach cancer. He was found on a yacht and taken to Rarotonga.
Suwarrow Atoll today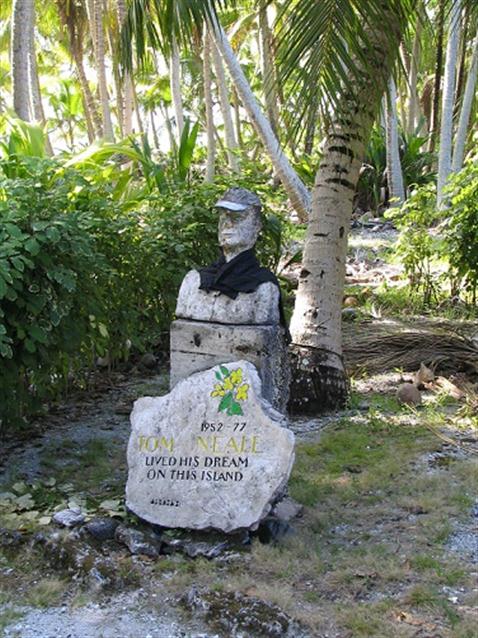 After the death of Tom Neal in 1978 on the Suwarrow was created by the National Park of the Cook Islands. Suwarrow atoll is a breeding ground for many marine birds, and is home to a regionally significant population of palm thief.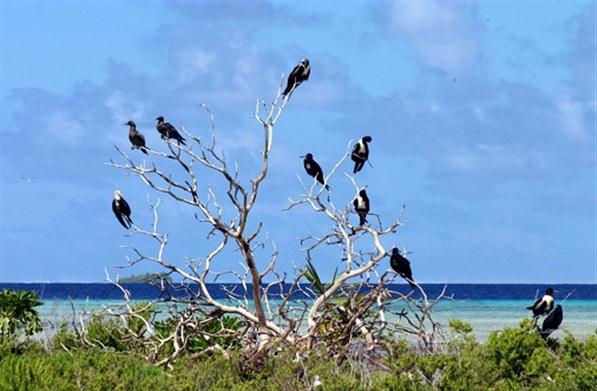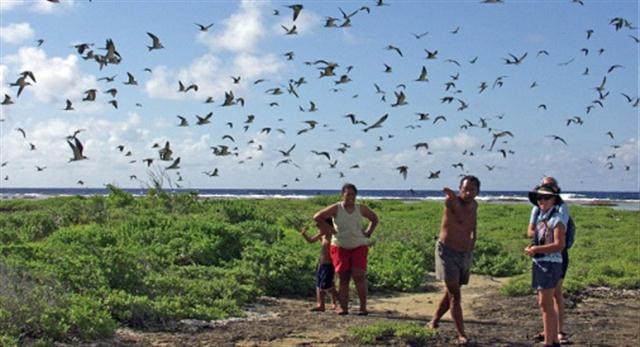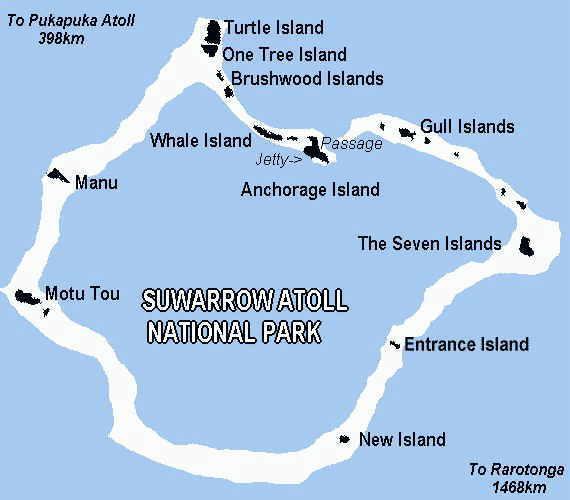 Scheme of the National Park "Suwarrow Atoll"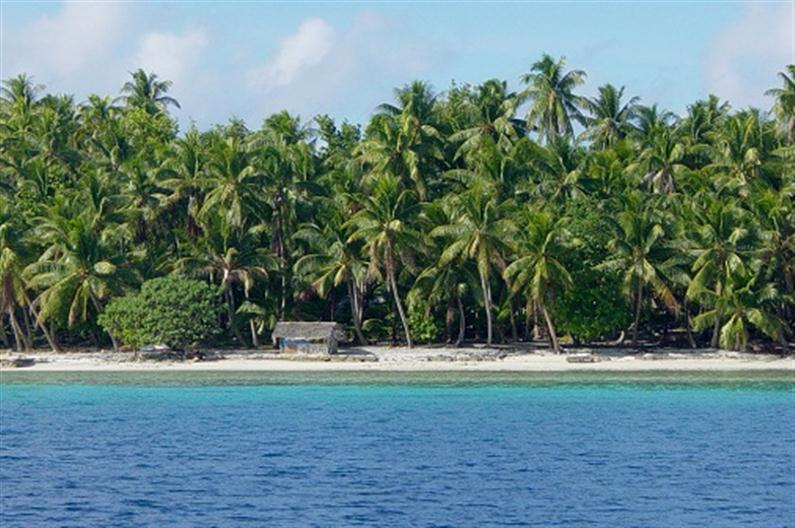 Tom Neale's hut on a shore motu Anchorage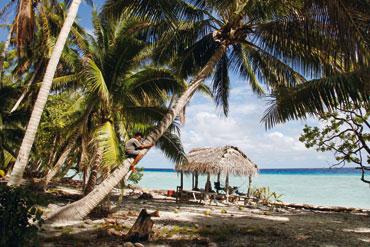 It is near